The history
Since our inception in 1993, EHC has grown to become Europe's largest and leading academy for helicopter education.
The founder, Ole Ronald Aronsen, initially started under the name Norcopter. The first commercial training flights took off from Jarlsberg Airport, just outside Tønsberg.
Today, 30 years later, we have trained over 800 commercial pilots for both the Norwegian and international markets. Currently, our former students are represented at virtually all major helicopter operators, both inland and offshore.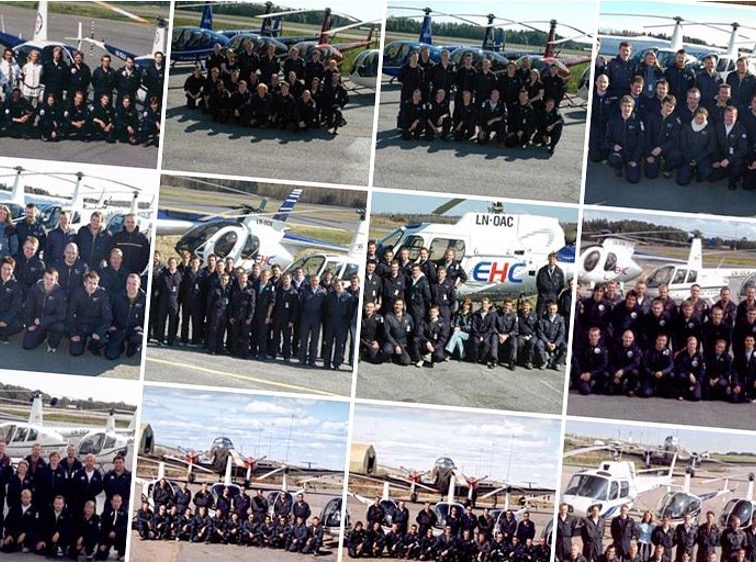 The name European Helicopter Center was first adopted in 2001.
In 2008, we moved to our current base at Hangarveien 13 in Torp. Here, we have everything under one roof, including hangars, classrooms, and dormitories. That same year, we received our first NOKUT accreditation as a vocational school, and we graduated our first international student.
In 2019, we set an "all-time high" record with over 6000 flight hours in one year.
Since our establishment in 1993, we have flown over 120,000 flight hours without any serious accidents.
Safety Safety is at the core of all our operations.
We continuously adhere to current regulations and standards for aviation safety, and we strive for an open and inclusive culture.
Our "no-blame policy" ensures an open reporting culture without consequences for those who report, both for students and staff. The overarching goal will always be to conduct safe helicopter operations and continue to achieve the company's ultimate objective:
No accidents.